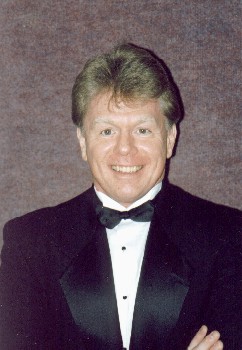 Widely acknowledged as the preeminent Judy Garland and Wizard of Oz author/historian, John Fricke received a 2004 Emmy Award as coproducer of the two-hour, PBS-TV 'American Masters' program, Judy Garland: By Myself. This was his second recognition by the Academy of Television Arts & Sciences; he won similar honors in 1997 as coproducer and cowriter of the A&E 'Biography' special, Judy: Beyond the Rainbow, based on his book, Judy Garland: World's Greatest Entertainer (Henry Holt, 1992).

His most recent credits include major participation in the summer 2007 DVD releases of the musicals Garland made with Mickey Rooney, as well as two other new-to-DVD Garland motion pictures. Fricke offers full-length audio commentary tracks on three of these Warner Home Video titles; he appears as well in three 'making of...' documentaries and wrote the copy for both the booklet included in the deluxe Garland/Rooney packaging as well as Mickey Rooney's on-camera introductions to four films.
In June 2006, Fricke produced the 'launch' event for the United States Postal Service and their Judy Garland/'Legends of Hollywood' first-class stamp at Zankel Hall at Carnegie in New York City. That evening's capacity crowd enjoyed film and video clips of Garland in action; reminiscences by actress Jane Powell, television host Dick Cavett, and award-winning playwright Terrence McNally; and musical performances by Michael Feinstein, Diane Schuur, Rufus Wainwright, and Garland's daughter, Lorna Luft. To coincide with the stamp's debut, Savoy Jazz issued the third compact disc of material Fricke has compiled and annotated from Garland's 1963-64 TV series: Great Day!/Rare Recordings from 'The Judy Garland Show.'

In autumn 2005, Fricke served as creative consultant for the new, deluxe DVD set(s) of M-G-M's The Wizard of Oz, released by Warner Home Video. The discs include his on-camera appearance or behind-the-scenes participation in six of the eight accompanying Oz-related documentaries, as well as his narration and hosting of the alternate audio track commentary, heard throughout the film itself. The Oz set won highest honors in numerous critical and popular polls as 'best of 2005.' In 2006, Fricke appeared in the documentaries accompanying the first appearance on DVD of the Garland films Summer Stock, Ziegfeld Follies, and Till the Clouds Roll By.

His most recent book, Judy Garland: A Portrait in Art and Anecdote, was published in 2003 by Bulfinch Press and includes a foreword by Lorna Luft. This was the first such participation in any author's treatise on their mother by one of Judy's children. Fricke is also the author of 100 Years of Oz (Stewart, Tabori & Chang, 1999) -- an overview of the entire Oz phenomenon -- and The Wizard of Oz: The Official 50th Anniversary Pictorial History, most recently reissued in 1998 by Warner Books. Total sales figures for Fricke's four books now approaches two hundred fifty thousand copies.

In 1998, he served as associate producer and writer for New York City's two sold-out concerts, Carnegie Hall Celebrates the Music of Judy Garland. For those productions, Fricke oversaw much of the casting and repertoire assignments for both shows, as well as selecting and helping to edit the various Garland film and video clips that were part of the performances. He also coproduced the 1992 Garland exhibition at The New York Public Library for the Performing Arts at Lincoln Center. The ten-week run of Judy Garland: A Celebration drew the largest crowds for any such retrospective in the history of the venue.

Fricke is the recipient of a 1996 Grammy Award nomination for 'Best Album Notes' for the compact disc, Judy Garland: 25th Anniversary Retrospective (1996), which he produced for Capitol Records. Between 1995 and 2002, he wrote the extensive booklets for the Turner Classic Movie Music/Rhino Movie Music series of Garland Metro-Goldwyn-Mayer soundtrack compact discs, thus providing detailed histories of The Wizard of Oz, Babes in Arms, Strike Up the Band, Babes on Broadway, For Me and My Gal, Girl Crazy, The Harvey Girls, The Pirate, Easter Parade, In the Good Old Summertime, Summer Stock, as well as the back story for Judy Garland: Collector's Gems from the M-G-M Films. Fricke provided similar notes for the 2004 Sony compact disc of Garland's A Star is Born and the 2006 compact disc of Liza Minnelli's Liza With A 'Z.'

In 2005, he compiled and annotated the Savoy Jazz CDs, 'That Old Feeling'/Classic Ballads from 'The Judy Garland Show' and Judy Garland and Friends: Duets. The first legitimate United Kingdom release of these soundtracks from Judy's TV series carries a booklet written by Fricke and will be released by Union Square Music in 2007 as The Very Best of 'The Judy Garland Show.' His 6500-word profile attendant to the career association of Garland and Oz/A Star Is Born composer Harold Arlen appeared in the April 2005 issue of The Cue Sheet/Quarterly Journal of The Film Music Society. He has also written for TV Guide, People, and Memories magazines among many other periodicals.

Fricke has discussed Garland, Oz, and Oz author L. Frank Baum on literally hundreds of international, national, and local media outlets, including three stints on the NBC-TV 'Today' Show (2006, 1992, 1989), as well as in appearances on the A&E cable network 'Breakfast With the Arts,' the syndicated 'Entertainment Tonight,' CNN, and on National Public Radio. He has worked everywhere from the Deauville Film Festival in France to the Academy of Motion Picture Arts & Sciences in Los Angeles as spokesman for Warner Bros., Turner Entertainment, Rhino Records, Capitol Records, and/or MGM/UA Home Video, as well as participating as lecturer/moderator and/or master of ceremonies at all the major Oz, Garland, and Baum festivals, celebrations, and conventions.

In 2004, Fricke appeared as DVD on-camera host for Warner Home Video, writing and delivering introductions to three classic Garland films (Love Finds Andy Hardy, Ziegfeld Girl, In the Good Old Summertime); he also recorded complete historical commentary for the alternate audio tracks of three of other Garland titles in their DVD debut, Meet Me in St. Louis, For Me and My Gal, and (in 2005) Easter Parade. Earlier, he was coproducer of the award-winning laser disc box sets, The Ultimate Oz (1993) and Judy Garland: The Golden Years at M-G-M (1995).

Fricke was, respectively, associate producer and creative consultant for the CBS-TV documentary, The Wizard of Oz: The Making of A Movie Classic (1990) and the PBS-TV 'Great Performances' program, Judy Garland: The Concert Years (1985), both of which received Emmy Award nominations. He was consultant to virtually all production departments for Life With Judy Garland/Me and My Shadows (2001), the top-rated, multiple Emmy Award-winning ABC television motion picture. Fricke also wrote, hosted, and co directed the Telly Award-winning home video documentary, We're Off to See the Munchkins in 1993.

For The International Wizard of Oz Club, Fricke worked over the years as president and vice-president; as a member of the Board of Directors; and as editor-in-chief and contributing editor of its magazine, The Baum Bugle. He has also served as consultant to both The Land of Oz Preservation Company in Syracuse, NY, and The Judy Garland Heirs Trust.

As an entertainer, Fricke sang on many of Cunard's premier liners, including the Queen Elizabeth 2. He appeared as well at the Rainbow Room, Town Hall, and many cabaret venues in New York City; at the M-G-M Grand Hotel in Las Vegas; and in countless one-man pops concerts around the United States.

He is a McCormick Scholarship graduate of the famed Medill School of Journalism at Northwestern University. A native of Milwaukee, Fricke has made his home in New York City since 1974.