A Brief History...
The Wizard of Oz Festival was founded by Jean Nelson. In 1982, the Duneland area was in an economic depression due to the closing of several steel mills in the area. Nelson, then the owner of the Yellow Brick Road Gift Shop and Oz Fantasy Museum, decided to try to cheer everyone up by organizing a Wizard of Oz Day with the help of some Chesterton stores and businesses. From a few Oz-themed games and events, The Wizard of Oz Festival was born.
*Excerpt from an article by Zachary Ryan Allen, published in the Winter 2005 issue of The Baum Bugle, the periodical of the
International Wizard of Oz Club.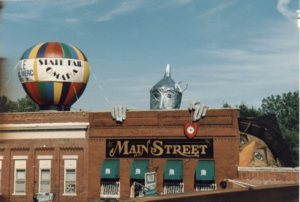 Downtown Chesterton, 1994 Oz Festival
OZSOME FACTS
The festival began as a one day even, and has grown to a three day, two evening event with approximately 80,0000 attendees making it one of Porter County's largest tourist attractions

Travelocity Local Secrets Big Finds selected the festival from more than 30,000 entries as a top insider spot in the USA for 2005

In 2003, the Oz festival received a Festival Achievement Award from the Governor of Indiana

In 2000 we were voted the Best Festival in a Post-Tribune Neighbors Choice Poll

The first Munchkin to attend was Parnell St. Aubin, a Munchkin soldier. His wife, Mary Ellen St. Aubin still participates in his honor, and has been bestowed the honorary title of First Lady of Chesterton.

In 1988 the Indiana State Legislation voted to adopt Dorothy, declared her a Hoosier and decreed Indiana Dorothy's Other Home

We are the largest Oz event in the world!!!

Our festival has been attended by Oz fans from Australia, England, Germany and Japan

We have been featured in the Smithsonian, on BBC radio, the Travel Channel, FOX, CNN and FX.

The Dorothy Look-A-Like Contest once had 500 contestants

The festival has been visited by two Emerald City Ladies from the MGM film, Dona Mason and Lois January

Has been visited by two child Munchkins Donna Stewart-Hardway and Betty Ann Bruno

Parade Grand Marshals have included Lance Kinsey of Police Academy; Charles Durr, Mr. USA; and the Marinos, the family of a 9/11 Firefighter

The opening of the Yellow Brick Road's Fantasy Museum was attended by Margaret Hamilton, the actress who portrayed the Wicked Witch of the West in the MGM film

In 1994 we had a new visitor (pictured above), a giant Tin Man peering over the roofs of the Main Street Shops. The Associated Press picked up his gleaming visage nationwide.

Has been written about in books such as Oddball Indiana by Jerome Pohlen and Chicago's Best Kept Secrets by Mike Michaelson

Has been featured in two videos Munchkin Mania by Craig Scheiner and We're Off to See the Munchkins by John Anderson

In 2002 film crews from Australia, England and Germany came to film the festival

A special commemorative post-mark is available each Oz festival weekend

In Her Own Words...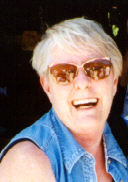 "There were only a total of five stores involved...One of the stores was a western store. The owners belonged to a horse club; and five or six of them came to town for the day on horses painted all different colors...My
favorite was a white horse all painted lime green.
Oz fest number two: I had located my first munchkin.
They owned a tavern in Chicago,called "The Midget Bar." (They were) Parnell St. Aubin and his wife Mary Ellen. I talked them in to coming for the Oz Day. They roamed around town and visited each store that was involved, signing autographs.
Festival number three: I added a parade. We advertised the smallest but most unusual parade in town I didn't know that I should have gone to the town board and asked for permission first...I asked the Police department. That day, the police forgot about us! There we were all lined up waiting for our police escort. I called and they came fast! You would not believe how many townsfolk turned up for the parade. From that festival on I would add a day and my life was now consumed in the festival until year number eight when I went to the Chamber* and asked for help...You know the rest of the story."
-Jean Nelson, 2004
*The Indiana Wizard of Oz Festival was run by Duneland/Chesterton Chamber of Commerce for several years before being handed over to its current organizer: Lakeshore Festivals and Events/Wizard of Oz Festival Inc.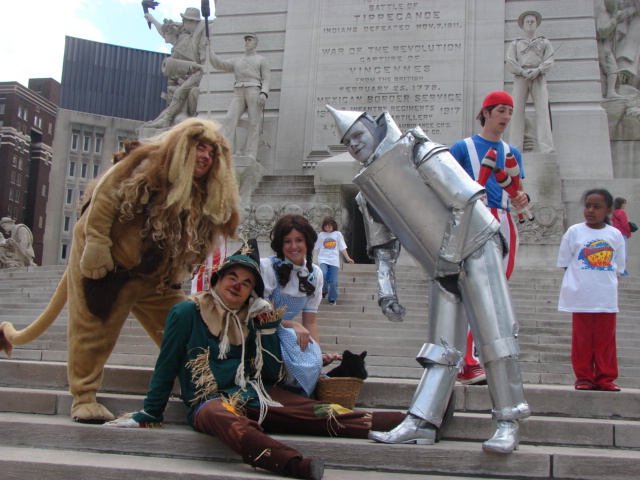 The Festival's Junior Official Characters made a Special Appearance at the 2008 Indy 500 Festival.