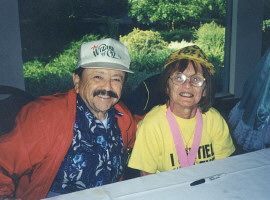 Jerry Maren, a member of the Lollipop Guild trio, will always be remembered as the munchkin who presented the enormous lollipop to Judy Garland as she was welcomed to Munchkinland in the MGM 1939 classic The Wizard of Oz.

Ever since the movie hit the big screen in 1939, Maren has held fast to his celebrity status - and every year he shows up in Indiana to reminisce and sign autographs for Oz fans.

It was sheer good fortune that landed him in professional show business. 'I attended dancing school - probably because my mother wanted to get me out of the house,' laughs the Boston born and raised Maren. As fate would have it, during a vaudeville act in Connecticut he explains how 'a talent scout spotted me backstage and announced that MGM was shooting a film version of The Wizard of Oz in Los Angeles.'

'They needed a lot of little people who could dance and sing. I was told my transportation, food and hotel expenses would be covered if I accepted the part, and I'd make $50 a week for six weeks of shooting.' That was more than his father made back home as a shoemaker. 'So, naturally, he grins, I accepted.' But once the then 17-year old Maren set foot on the motion picture set, he was astounded. 'I'd never seen a little person before in my life,' he admits. 'My family, my neighbors, my friends were all average size. Boy did I get all excited. Gee, I look like that? I'd wander around making new friends. It was incredible to be able to look people straight in the eye instead of straining to look up at them.'

Maren and the other munchkins worked twelve hours a day, six days a week to make the film the best loved and most watched motion picture of all times. Their schedule was comprised of a week of choreography, a week of wardrobe, a week of makeup, followed by three weeks of shooting. 'Even though she was already a star, Judy Garland was a lovely American teenager,' recalls Maren. 'She was compassionate and got a big kick out of being with us. Can you imagine how she felt when she got up every morning and looked out over 124 tiny adults?'

Maren's career has taken many strange curves since the curves of the Yellow Brick Road: During the War, Maren and a fellow munchkin teamed up for vaudevillian plays with USO Hospital Unit #14 . 'We did shows for every veterans hospital in the United States,' he says with great pride. He was also in movies including the all midget western entitled 'Terror of Tiny Town' and contract to Edgar Bergen to do Charlie McCarthy and Mortimer Snerd in the movie 'Here we Go Again.'

In the Our Gang comedy 'Tiny Troubles' he was Light-Fingered Lester, the little thief disguised in a baby carriage. In the Marx Brothers 'At The Circus' he was Professor Atom. He was also Buster Brown for the famous shoe company. As a professional midget wrestler in the early 50's, Chicago billed him as 'Baby Face Maren,' In Tijuana he was simply known as 'The Little Red Devil.' Guess who threw the confetti at the end of each Gong Show?

The bulk of his work ever since has been as a spokesperson for several large corporations. Maren is of Italian decent. His real and legal name is Marenghi. 'I chopped off the last three letters so as not to upset my father too much.'

'I am what we call an MBM,' says Elizabeth Maren's, Jerry's wife of 26 years. MBM stands for Munchkin By Marriage. Maren, a member of the Hollywood chapter of Little People of America (LPA) saw a picture of Elizabeth, asked for her address, wrote her a letter, then waited by the mailbox everyday for an answer. 'Although she was in Jacksonville and I lived in the Hollywood Hills' he says, 'we had a romance by mail for months. I married her and am the luckiest man in the world for it.'

DEE DUNHEIM

DEEDUN Public Relations

Phone 219 929 1038

Fax 219 929 4483

www.deedun.com

DEEDUN@comcast.net