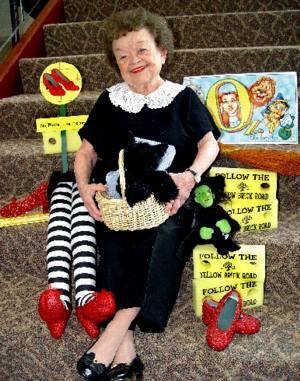 'I'm 44 inches tall,' says Mary Ellen St. Aubin. 'Or, you can say I'm three feet and eight inches tall. Either way, that's my height.'

"And, even at that," she adds, "I was taller than my husband, Parnell, who was a Munchkin in the 1939 movie classic, The Wizard of Oz."

Born on September 21,1920, and a professional performer since the tender age of 13, Mary Ellen's diminutive stature, along with her talents in tap, ballet, toe and acrobatic dancing, made her a natural for a show business. She was employed by famous troupes including Rose's Royal Midgets, Fred Roper & His Wonderful Midgets, Henry & Dolly Kramer Midget Troupe, and Nate Eagle's Hollywood Midgets.

Show business was the vehicle through which Mary Ellen, Parnell and many other Little People were able to network for job opportunites and to meet friends their size. 'We were scattered all over the country,' she explains, 'but, since were
all young, we were all performers, and we were all midgets, we all kept in touch.' Working the same sideshows and carnivals, and performing in the same vaudevillian traveling companies, the Little People became a tight-knit clan. That kinship got even closer during 1933 and 1934 at Chicago's World Fair where Little People performed at Midget City. Billed as '...a colony of Lilliputians, living in miniature houses, furnished with tiny furniture...' the attraction brought throngs of curious who never had before - and probably never have since - seen so many Little People in one place.

The next big roundup of Little People took place when MGM put out a nationwide casting call for characters to populate Munchkinland for the 1939 extravaganza The Wizard Of Oz.

'I hadn't yet met my husband," says Mary Ellen. 'But I know he jumped at the opportunity. He was only 16 years old. He didn't even have an agent. He travelled to Hollywood all on his own." Parnell made the cut. He filled the bill. He became one of the 124 original Munchkins.

Only 43 inches tall, Parnell was the tiniest munchkin soldier. 'Look. Look,' says Mary Ellen while watching the movie on DVD for the umpteenth time. 'There he is in a long black coat and tall grey hat. He's behind the bush. He's peeking out to see the excitement surrounding Dorothy and Toto's arrival in Munchkinland.' Later, she says 'Now look again. Behind Dorothy's carriage. He's a soldier. In the front row. Closest to the screen.'

Production of Munchkinland scenes on the Oz set lasted only six weeks. After Oz, Parnell returned to Chicago. Far too short for active military duty during World War II, Parnell became a professional riveter for Pullman Aircraft. 'Many women and midgets were riveters,' says Mary Ellen. And after the War, Parnell did what dozens of other unemployed Munchkins did. He advertised products. Some took on the persona of Buster Brown for the shoe company. Others road around the country in Oscar Meyer's Weinermobile. Parnell, on the other hand became a spokesperson for breads at Silver Cup and paints for Sherwin Williams.

In the meantime, Mary Ellen continued her show business career. She even got her own taste of movie life in the 1946 movie Three Wise Fools, starring Lionel Barrymore and Margaret O'Brien. 'I appeared with dozens of other midgets as a leprechan. But unlike the Wizard of Oz, mine didn't go over so well. As a matter of fact,' she laughs, '...it sort of, well, disappeared.'

Mary Ellen and Parnell still had not yet met. It finally happened in the Toy Department of Chicago's State Street Goldblatt's where Mary Ellen worked during Christmas time. 'Parnell came to see the midgets. And there I was,' she smiles. He worked fast in winning her over. They began dating in November of 1947, and within six months were married.

That same year they opened their very own Chicago neighborhood bar called The Midget Club. 'We created the bar to fit our size. It was a custom-built. Pint size, so we could both easily maneuver around, tend bar and serve customers.' The St. Aubins owned and managed The Midget Club, first at 6356 South Kedzie, from 1948 through 1955, then at 4016 West 63rd Street, until retiring in 1982.

When Parnell passed away in 1987, just several months shy of the couple's 40th wedding anniversary, Mary Ellen began yet another full-time career. She is an Administrative Assistant in the Vocational Services office of St. Coletta's of Illinois. And throughout the past eighteen years, her second family consists of the 325 employees and all those affiliated with the organization. St. Coletta's of Illinois was created by the Sisters of St. Francis of Assisi to provide care and services people with developmental disabilities.

The St. Aubins never had children. Mary Ellen's sister, Betty, however, provided her with three nieces and nephews, who gave her eleven great nieces and nephews, and a great-great niece. 'Those kids keep me hopping,' says Mary Ellen. 'Every time I turn around there's another family affair to attend,' she says. 'So, before I make any plans,' she grins, 'I have to check my very busy social calendar.'

But each year, the third weekend in September is booked. Booked solid. That's when Mary Ellen becomes the 'First Lady" of The Wizard of Oz Festival in Chesterton, Indiana, only an hour's drive from Mary Ellen's home in Chicago's southwest suburbs.

Munchkins and their spouses, known affectionately by Oz fans as 'Munchkins-By-Marriage (MBM's) have, for the past 23 years, congregated in that Northwest Indiana town, It started in 1982, when Chesterton resident Jean Nelson, created a Wizard of Oz Festival. When she discovered the whereabouts of Parnell and Mary Ellen, she invited them to be her special guests.

'We were thrilled,' recalls Mary Ellen. 'Parnell was the first Munchkin, and I was the first Munchkin-By-Marriage(MBM) to attend. We helped Jean locate the other Munchkins. Since she rounded us all up and gets us back together, she has been officially named 'Mother of the Munchkins,' The only Oz Festival Mary Ellen ever missed was when her husband was ill in 1986 and when he passed away the following year. 'Except for those sad times,' she says, '...I've been at every single one, and wouldn't miss another for the world.'

Sadly, there aren't many Munchkins or MBM's left for Mary Ellen to party with. Their numbers are dwindling. But those can still travel, still congregate for their yearly Munchkin reunion. 'This year, Festival organizers again expect Mary Ellen's buddies, including Margaret Pellegrini (the Flower Pot Lady); Carl Slover (a Trumpeter); Clarence Swensen (a Soldier); Jerry Maren (The Lollipop Kid) and Meinhardt Raabe (The Coroner who pronounced the demise of the Wicked Witch of the East).

For more information about Oz events, Munchkin autograph sessions, Character Look-A-Like contests, the Oz Parade and other activities throughout the September 16-18 weekend, log onto www.wizardofozfestival.org, or call Lakeshore Festival & Events at 219-983-1691.